A Day in the Life of a Passionist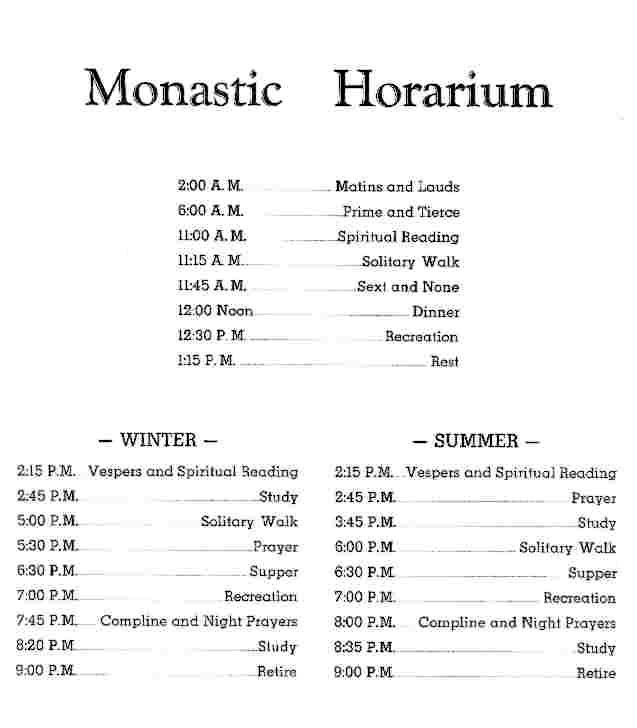 On the right is a scan of a typical 20th century Passionist Monastic Horarium, which was the Passionist's daily schedule. Adherence to these schedules has become less and less since the 1960s. It reads as follows:
2:00 A.M. — Matins and Lauds
6:00 A.M. — Prime and Tierce
11:00 A.M. — Spiritual Reading
11:15 A.M. — Solitary Walk
11:45 A.M. — Sext and None
12:00 Noon — Dinner
12:30 P.M. — Recreation
1:15 P.M. — Rest
The Horarium then continues according to season.
Winter:
2:15 P.M. — Vespers and Spiritual Reading
2:45 P.M. — Study
5:00 P.M. — Solitary Walk
5:30 P.M. — Prayer
6:30 P.M. — Supper
7:00 P.M. — Recreation
7:45 P.M. — Compline and Night Prayers
8:20 P.M. — Study
9:00 P.M. — Retire
Summer:
2:15 P.M. — Vespers and Spiritual Reading
2:45 P.M. — Prayer
3:45 P.M. — Study
6:00 P.M. — Solitary Walk
6:30 P.M. — Supper
7:00 P.M. — Recreation
8:00 P.M. — Compline and Night Prayers
8:35 P.M. — Study
9:00 P.M. — Retire