Letter from Henry H. Scofield on 1946 Experience with China Missionaries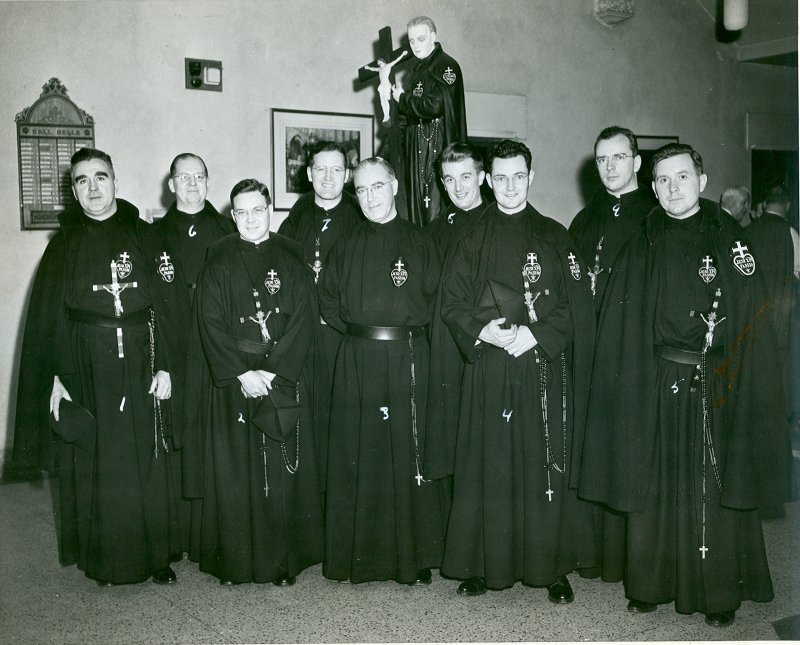 Henry H. Scofield was in the U.S. military in China in 1946. Below is a portion of the letter he sent to Passionist Missionaries at 526 Monastery Place, Union City, NJ on May 31, 2006:
---
In 1946 I was stationed with a Marine Air Group (MAG 24) at an airbase just south of Peiping (Beijing) China. We had no Catholic chaplain with the MAG and a group of Passionists who were studying Chinese at the language school in Peiping would take turns coming out to the base on Saturday afternoon and hear confessions, stay over night and celebrate Mass on Sunday morning. The group included Fr. Regis Boyle who was the Superior, and Frs. Lawrence Mullin, Jerome Does, Ronald Beaton, Ernan Johnson, Ernest Hotz, Linus Lombard, Justin Garvey and John Baptist Maye. Fr. Boyle, who loved to play bridge, and Frs. Lawrence and Does would stay in my Quonset hut and so I became well acquainted with them. By the way, there is a group picture of them in the February 1948 issue of The Sign.
The Marines were pulled out of China in 1949 but the Passionists remained behind and many of them were held under house arrest until their expulsion in the 1950s.
I was able to correspond with Frs. Lawrence and Jerome and continued to do so later when they were in the Philippines. When they were on Furlough they always managed to spend a couple of days with my wife and me. They always had their Mass kits with them and we had Mass in the kitchen, the dining room and even on the patio.
Fr. Jerome died of lung cancer in 1973. He had written telling me of his illness so it was not a surprise when an FBI friend of his called and told me or his death. Fr. Lawrence's death was a real shock as I had heard from him several months earlier and he did not mention his illness. Fr. Ed Deviny wrote and told me about his death from Hodgkin's disease on March 30, 1980. In the recent issue of Province Perspectives I noted that Fr. Ernest Hotz died last November.
I did not intend this letter to be so long but I thought you would be interested in knowing of my association with the "China Passionists."
Related Articles