St. Michael Church, Golden Jubilee Southside, Pittsburgh, Pennsylvania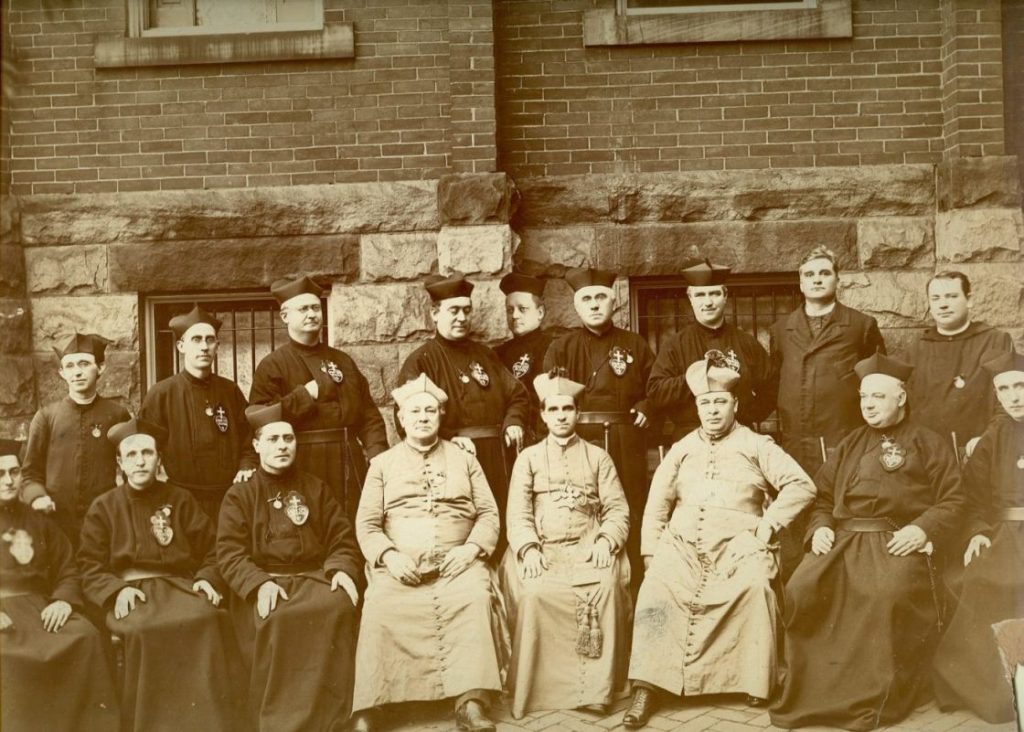 The only detail attached to this photo tells us that it was from the 1898 Golden Jubilee of St. Michael's Church at Southside, Pittsburgh, Pennsylvania. Hugh K. Barr, C.P. included news clippings of the event in his collection of historical information on Pittsburgh. From the Pittsburgh Post of October 3, 1898 we read "With ceremony, music and rejoicing the German Catholics of St. Michael's congregation, Pius Street, Southside, celebrated the fiftieth anniversary of the founding of their church yesterday.
The three dignitaries from left to right are P.J. Donahue, bishop of Wheeling, West Virginia; Archbishop Sebastian Martinelli, Apostolic delegate to the United States; Richard Phelan, bishop of Pittsburgh. Archbishop Martinelli and Bishop Donahue spent the night before the celebration at St. Paul's Monastery. To the right of Bishop Phelan is John Baptist Baudinelli, C.P. who was Provincial in 1898. The Passionist on the left of Bishop Donahue looks like Wendelin Schmidt, C.P. who acted as pastor after the sudden illness of Bernard Hehl in 1898. Father Schmidt died in June of 1899 and was replaced by Sebastian Stutts, C.P. Others identified are standing George Basel, C.P. (3rd from the left); Sebastian Stutts, C.P. (4th from the left); and Philip Birk, C.P. (6th from the left). There are also 3 priests standing in the back who do not wear the Passionist Sign. Nearly all the men in the photo are wearing a small medal created especially for this occasion.
A particularly interesting feature of this photo is the 5th man from the left standing. He was not actually in the original photo, but was added later. That man is Bernard Hehl, C.P. who in February of 1898 had a stroke and was incapacitated. He was pastor from 1884 to 1898 and was such an important part of the parish that they made sure he was "there" for the photo. According to the newspaper article "One of the most distinguished guests was Fr. Bernard Hehl, formerly pastor of St. Michael's who was stricken with paralysis several months ago. Father Bernard came from [West] Hoboken, N.J., to attend the golden jubilee."
Archbishop (Monsignor) Martinelli celebrated a Solemn pontifical mass at 10AM on Sunday assisted by Provincial John Baptist Baudinelli, C.P. The Deacons of honor were Fr. Charles Lang, C.P. and Fr. Sebastian Stutts, C.P. The Deacon was Fr. George Basel, C.P. and the Subdeacon was Fr. Christopher Schiesl, C.P. Masters of ceremonies were Frs. Ferdinand Immikus, C.P. and Matthew Miller, C.P. Fr. Philip Birk, C.P. was also in attendance. Seated in the Sanctuary were Bishop Richard Phelan, Bishop P.J. Donahue, Rev. A.A. Lambing, Rev. John T. Murphy, Father Miskiewicz, pastor of St. Adelbert's, and Rev. O.P. Gallager.
At night solemn high vespers were chanted by Bishop Donahue. Monday morning there was a solemn requiem mass for the souls of deceased members of the congregation.