Men of prayer, preaching and intelligence: Passionist participation in the Catholic Theological Society of America: A memorial essay–Father Augustine Paul Hennessy, C.P. (1914-2004)
by Father Rob Carbonneau, C.P.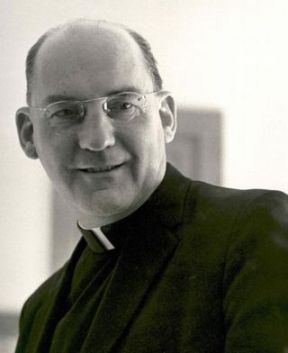 Introduction
Summer is a pretty slow time for historians. School is out. Procrastination usually wins over research and writing. On the afternoon of July 15, 2002 this atmosphere was changed by an email inquiry from Professor Jeff Marlett, Ph.D., assistant professor of religious studies at The College of St. Rose, Albany, New York. He wanted to know if the Passionist Historical Archives had information on the extensive role played by Father Augustine Paul Hennessy, C.P. in the Catholic Theological Society of America (CTSA)—this for an upcoming 60th anniversary history in 2006. Quickly, I emailed him back and told him we had limited correspondence and that Father Hennessy resided, in good care, at Mont Marie Health Care facility in Holyoke, Massachusetts where he had been in a partial coma for a decade.
Invoking the historian's right to be a detective, in the Fall of 2003 I took a study day at a library and looked up past issues of the Proceedings of the Catholic Theological Society of America in order to learn more about Father Gus' participation. Plans for the CTSA began in 1945. After a series of planning meetings, an inaugural meeting was held June 25 & 26, 1946 at the Hotel Commodore, New York City. I came to understand that Fathers Hennessy and Aloysius McDonough, C.P. were prominent members in the first decades of the CTSA.
Sadly, as I was composing this newsletter essay I received word that Father Hennessy died on Holy Thursday, April 8. On April 13 I attended his funeral. This article now honors his memory. A little over a year ago I had the opportunity to visit him. He was strong. However, eyes that once sparkled at the chance to engage in a Thomistic debate were now vacant. Still, he was a witness to the passion of Jesus.
May this essay on Passionist participation in the CTSA invigorate us Passionists and friends of the Passionists to contemplate the place of the intellectual life in Passionist ministries and the Catholic Church, especially in the United States. Unless otherwise noted, all individuals cited below are Passionist priests.
Augustine Paul Hennessy
Augustine Paul Hennessy was proposed to be the CTSA secretary in 1947. In 1948 Hennessy was appointed to the Committee on Nominations and Admissions. In 1950 Joseph M. O'Leary of Chicago, Illinois was appointed to the Committee on the Cardinal Spellman Award. Hennessy filled in for O'Leary in 1950 and 1951 so the latter could complete a study year in Rome. In 1953 and 1954, and 1956 and 1957 Hennessy was on the Board of Directors. In 1955 he was President of the CTSA and Chair of the Committee on the Cardinal Spellman Award. He remained on this committee in 1956 and 1957.
Hennessy celebrated his 90th birthday on March 11, 2004. A native son of Philadelphia, Pennsylvania, he was the son of John P. Hennessy and Kathryn Campbell. High school was at St. Joseph's, Hanover, Pennsylvania and West Philadelphia Catholic where he graduated in 1931. From 1932 till 1933 he was at the Passionists' Holy Cross Seminary, Dunkirk, New York. His novitiate was 1933 till 1934 in West Springfield, Massachusetts. He professed his Passionist vows on August 15, 1934 and was ordained a priest on May 1, 1941.
He went on to The Catholic University of America, Washington, D.C. and received a STD and STL. From 1959 till 1962 Hennessy was Rector of the Minor Seminary, Dunkirk, New York; 1962 till 1965 Master of Passionist novices, Pittsburgh, Pennsylvania; 1965 till 1967 Rector of Calvary Monastery, Shrewsbury, Massachusetts; 1967 till 1975 Editor of The Sign, Union City, New Jersey; 1975 till 1978 in residence at Jamaica, New York; 1978 till 1990 retired at West Springfield; 1990 until 2004 at Holyoke, Massachusetts.
Hennessy's 1955 presidential address to the CTSA was published in the 1956 Proceedings. Entitled "Charity and the Pursuit of Wisdom" it was divided into four parts: 1. By Charity We Possess God as Really and Substantially as we shall possess Him in the life of eternity. 2. Charity is a real participation in the Intratrinitarian life of God. This is a life of knowledge and love. 3. Through Charity the spirit of love substitutes the filial spirit of Christ in us for the spirit of egotism. 4. Charity produces an affective union with divine realities and this affective union is virtually cognitive, even though it be supraconceptual mystical experience. Hennessy's conclusion: Charity is the dynamic unitive force behind theology in all its functions.
Passionist office holders in the CTSA
Aloysius McDonough
Aloysius McDonough was a work horse for the CTSA. He was named to the Committee on Research and Publications in 1946 and reappointed to the same in 1947. Sources show he held the post of secretary from 1949 until 1959.
McDonough was born November 6, 1902 in Dorchester, Massachusetts. He was educated at St. Peter's School. In 1916 he went to the Passionist Preparatory Seminary, Baltimore, Maryland. He professed his vows on September 20, 1921 and was ordained on June 2, 1928. He obtained a doctorate in theology from the Angelicum in 1930. From 1930 until 1945 he was professor of dogmatic theology in the Passionist Seminary system. From 1945 until 1948 he was director of sacred eloquence in Baltimore, Maryland. He then took on editorship of the question and answer column "Sign Post" in The Signuntil 1959. He was also province prefect of studies from 1955 until 1965. In the mid-1960s he became editor of the Passionist magazine Verbum Crucis. He wrote articles in a number of popular journals. For the last eighteen years of his life sickness was his companion. In 1962 he died a member of the Jamaica, New York community.
In 1962, he and retiring CTSA treasurer Monsignor James E. Rea were both praised for "their intrepid devotion over a period of fifteen years to the welfare of the Society, of high admiration at their sheer slavery of the plain routine of ordinary tasks, of deep gratitude for their continuous and cohesive influence in directing the affairs of the Society and providing, with characteristic and apostolic zeal, for its cause, which is that of Christ and His Church."
Kudos continued: "Father Aloysius McDonough, Passionist, has served the Society nobly and well as its secretary from the time of its foundation fifteen years ago. Distinguished scholar and author in his own right, he yet found time to pursue the elusive minutiae involved in keeping the Society together and informed, working steadily the while for its progress and development. Ever the expansive host at our annual meetings, by deft efficiency he absorbed in his own genial personality the burden of routine and detail, pared the business meetings to manageable size, instructed presidents in their duties of office, and generally provided unobtrusive skill for a well ordered and smooth functioning administrative unit."
McDonough was on the Committee on Admissions from 1952 till 1956 and Advertising Manager for Proceedings in 1952 and 1953 and 1956 till 1962. Theodore Foley held that post in 1954 and 1955. In 1953 McDonough was part of the Committee for revision of the Constitutions. Evidently all this service was appreciated, because when his secretarial service ended in 1959 he was asked, that same year, to be on a Committee to review the work and structure of the CTSA. From 1961 till 1962 he was president of the CTSA; on the Board of Directors from 1961 through 1963; Chair of the Committee on the Cardinal Spellman Award in 1961 and a member of that committee in 1962 and 1963. That same year he filled in again as Advertising Manager upon the resignation of Father Thomas Dolan, O.P.
McDonough's 1961 CTSA presidential address, published in the 1962 Proceedings, was "The Professional Theologian—An Instrumental Cause in the Ecclesia Docens." He ended his talk with this thought. "The theologian is less concerned about IQ, than about a normal telepathy between his own spirit and the Holy Spirit, upon the development of the graces of a lifetime—the graces of Baptism, Confirmation, Holy Orders. In harmony with the successors to the Apostles, the theological auxiliaries of the Ecclesia Docens [Church teaching office] are intent upon the more influential presentation of the Word of God, the more devout celebration of the Eucharistic sacrifice, the more fruitful reception of the sacraments. That unearthly objective, and theology as a means thereunto, are the reasons for existence of The Catholic Theological Society of America."
Other Passionist officers
Other Passionist officers were George J. Staniszewski on the Committee on Admissions in 1954. In 1956 he resigned as a member of the CTSA Regional Committee. Theodore Foley was Advertising Manager of Proceedings in 1954 and 1955. In 1959 Forrest J. Macken was a member of the Board of Directors. On the Committee on Admissions were John Baptist Pesce, 1956; Norman Demeck, 1959; Robert O'Hara, 1961, and Paul Boyle, 1962. Bertin Farrell was on the Committee of Nominations in 1963. Jude Mead was on that same committee in 1964. After 1965 no Passionists are CTSA officers.
Membership
Passionists' participation in the CTSA is continuous from its beginning in 1946 till the years immediately following the end of the Second Vatican Council in 1965. By the mid-1970s both United States Passionist regions had reconfigured their internal seminary programs so that seminarians no longer studied theology in Passionist monasteries. Instead, east coast students were at St. John's University Graduate School of Theology, Jamaica, New York, and the western province sent their students to Catholic Theological Union (CTU), Chicago, Illinois. The demise of the Passionist educational system corresponds directly to the decrease of Passionist membership in the CTSA after 1965. Given this context, it is of interest to see which Passionists were in the CTSA.
1946 charter members were Theodore Foley, Passionist Monastery Jamaica; Augustine Paul Hennessy of The Sign, Union City; Roland Joseph Hoffman, St. Michael's Monastery, Union City; and Aloysius McDonough, St. Joseph's Monastery, Baltimore, Maryland. In 1947 Joseph M. O'Leary, North Harlem Avenue, Chicago, Illinois joined. Bertin Farrell of Jamaica joined in 1948. New members in 1949 were Valentine Leitsch, St. Paul Place, Cincinnati, Ohio and Neil Sharkey from Union City. 1949 CTSA Proceedings show 8 Passionist members out of a total membership of 156 religious. Passionists were 1 of 31 religious communities. 75 diocesan priests came from 29 archdioceses and dioceses. New members in 1950 were John Devany, Louisville, Kentucky; Charles Lang, Jamaica; and Gregory J. Staniszewski, Chicago. Berchmans Lanagan, Jamaica, joined in 1951. Forrest J. Macken of Louisville paid his first dues in 1952. Kevin McCloskey and John Baptist Pesce, both in Baltimore, joined in 1953.
Passionists present at the 8th annual meeting in 1953 were Devany, Louisville; Farrell, Jamaica; Foley, Scranton; Hennessy, Dunkirk, McCloskey, Baltimore; McDonough, Jamaica; Macken, Louisville; Pesce, Baltimore and Staniszewski, Chicago. In 1954 Silvan Rouse, Baltimore joined and seven went to the 9th annual meeting.
By 1955 overall CTSA membership was over 500 members. That year Bishop O'Gara, expelled from Yuanling, China in 1953, became a new member as did Raymond J. Foerster, Nicholas Gill, Richard Kugelman and Columba J. Moore—all of Union City—and Robert O'Hara, of Pittsburgh, Peter Quinn of Jamaica, and from Brighton, Massachusetts, Cronan Regan and Gerard Rooney.
Eight Passionists were at the 10th Annual Meeting in 1955. Norman Demeck, Dunkirk; Paul Dignan, Union City; and John Baptist Pechulis, Chicago were new members in 1956 and eight Passionists attended the 11th annual Cleveland Meeting. Charles Frederick Lang C.P. died in 1956.
Passionists accepted as new members in 1957 were Aquinas McGurk in Brighton as well as Barry Rankin and Carroll Stuhlmueller in Chicago. Present at the 12th Annual Meeting were Norman Demeck, Dunkirk; Aloysius McDonough, Jamaica; Aquinas McGurk, Brighton; Forrest J. Macken, Louisville; John Baptist Pechulis, Chicago; Cronan Regan, Brighton; Silvan Rouse, Jamaica.
CTSA membership in 1957 was 686. Proceedings lists active Passionists as Bishop O'Gara, [Union City]; Silvan Brennan, Baltimore; Norman Demeck, Jamaica; John Devany, Sierra Madre, California; Paul J. Dignan, Union City; Bertin Farrell, Scranton, Pennsylvania; Raymond Foerster, Union City; Theodore Foley, Pittsburgh; Nicholas Gill, Union City; Augustine P. Hennessy, West Hartford, Connecticut; Richard Kugelman, Union City; Berchmans Lanagan, Brighton; Valentine Leitsch, Detroit, Michigan; Fintan J. Lombard, Rome; Kevin McCloskey, Brighton; Aloysius McDonough, Sign; Aquinas McGurk, Brighton; Forrest Macken, Louisville; Columba J. Moore, Union City; Robert O'Hara, Pittsburgh; Joseph O'Leary, Chicago; John Baptist Pechulis, Chicago; John Baptist Pesce, Dunkirk; Peter Quinn, Jamaica; Barry Rankin, Chicago; Cronan Regan, West Hartford; Gerard Rooney, Sign, Silvan Rouse, Baltimore; Neil Sharkey, Brighton; Gregory Staniszewski, Houston, Texas, and Carroll Stuhlmueller, Chicago.
New 1958 members included were Paul M. Boyle and Eugene Peterman, Louisville. Eight Passionists were at the 13th Annual Meeting. 1959 members totaled 754. New among them was Columkille Regan, West Springfield.
Passionist membership does not appear to be as pronounced as we move into the 1960s. As mentioned previously, this coincides with the Passionist participation in theological clusters, and may be in part due to less detailed reporting procedures in the Proceedings. Inducted in June 1961 were Norbert Leonard Dorsey, Jude Mead, and Wilfred John Scanlon. There were 968 members in 1962 which included associate members Sebastian K. MacDonald and Jerome F. McKenna, C.P. Later, the 1964 19th Annual Convention reported the death of Valentine Leitsch and approved active membership for Victor J. Hoagland and Martin Tooker. CTSA member Theodore Foley was elected Passionist Superior General in Rome. The 20th Convention approved John W. Cousins. The 1967 22nd Annual Convention Active announced Roger Elliot to be an associate member. The 23rd Convention in 1968 accepted Robert Molyneaux as an active member and Richard A. Cashen as an Associate Member. At the 24th Annual Convention in 1969 Nicholas Crotty was accepted as an active member and Paul I. Bechtold as an associate member.
The 1970 report lists Donald P. Senior, and Paul E. Schrodt was announced as a member in 1971. Joseph Gibbons and Eric C. Meyer became members in 1972. No new Passionists joined from 1975 until 1982.
In 1983 we see Eric C. Meyer report his change of address to Carbondale, Illinois and Norbert Dorsey change his address to Miami, Florida. In 1989 CTU faculty member Paul Wadell is listed as a member. As was the practice CTSA reported his academic pedigree. Wadell was a 1985 Notre Dame Ph.D. graduate who wrote his dissertation on An Interpretation of Aquinas' Treatise on the Passions, Virtues, and Gifts from the Perspective of Charity as Friendship with God. His interests were in Moral Theology—Feminist and American Ethics. That same year, W. Jerome Bracken, living in Philadelphia, Pennsylvania switched from an associate member to an active member. His Fordham Ph.D. was on Why Suffering in Redemption: A New Interpretation of the Theology of the Passion in the Summa Theologica 3, 46-49. Moral Theology was his area of concern. Robin Ryan joined as associate member as he pursued graduate studies at The Catholic University of America and resided at Divine Word College, Washington, D.C. In 1990 Bracken reported his change of address to Jamaica, New York and Joseph A. Fahey, of the Apostolado Hispano in Atlanta became a member. He had a Harvard Th.D. His topic was The Antislavery Thought of José Augustino Caballero, Juan José Diaz, and Felix Varela, in Cuba, 1791-1823. His areas of interest were Applied Theology and Latin American Liberation Theology.
In 1991 Norbert Dorsey reported his change of address to be the Bishop of Orlando, Florida and Canadian Stephen Dunn became a member. He had obtained his STD in 1972 from the Alphonsianum. His dissertation was on Human and Christian Morality: A Study of the Principle of Autonomy. Areas of concern were Foundational Ethics, Ecological Ethics, Ethics and Spirituality. In 1993 Robin Ryan became an active member. He had completed his CUA Ph.D. the same year. His subject was The Quest for the Unity of the Christian Churches: A Study of Karl Rahner's Writings on Christian Ecumenism. Areas of interest were Theology of God, Theological Anthropology, and Rahner Studies.
Conclusion.
In 1974 I was taking my family on a whirlwind tour of New York City. Required was a ride on the Staten Island ferry. Augustine Paul Hennessy happened to be on that same boat on the way to preach a parish appeal for Sign magazine. I said hello. He proved to be engaging as he spoke to me and my family. At that time I did not know the range and depth of his character. How prayer, preaching, and intelligence consumed his life! The long life and gospel service of Augustine Paul Hennessy offers all Passionists, those lay people involved in ministry, and all people of faith to ask for such facets—prayer, preaching and intelligence—to shine through in our daily life.