Monastery Memories: St. Michael's Passionist Monastery Church, Union City, New Jersey.
by John R. Biasco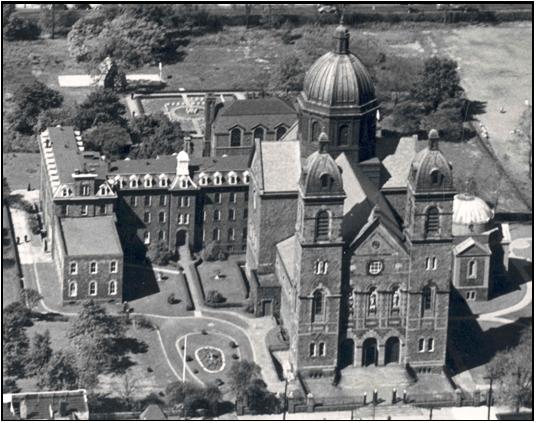 When I turned on my computer on January 14, 2003 an e-mail entitled "Monastery Memories" was waiting for me. With interest I opened it and found a moving, succinct, and heartfelt reflection on St. Michael's Monastery, Union City. This recollection struck me as most timely, because the old monastery is presently taking on a new look! Of course, the property had been sold by the Passionists in the 1980s. Housing, having the exterior appearance of the former monastery now exists. In addition, the monastery church is used as a place of worship for the Korean Presbyterian Church; the Stations of the Cross were taken down and the large Passionist cemetery moved to North Arlington, New Jersey. On those sites was an athletic field. Now being constructed on that athletic field is a new Union City school and library. Even though the former Passionist property has gone through and continues to go through a metamorphosis, change does not destroy sacred religious memories. These Monastery Memories remind us all that complaining about the past does not bring understanding. Rather, sharing about the past does. When this is done, we see that memory of family, stories, churches, disaster, prayer, trolley cars, train rides, and priests and brothers is what needs to be revitalized in the heart and mind in order to facilitate spiritual maturity. Yes, the churches may close and it is a loss. But when one goes to the well of historical reflection, wisdom of faith can find a home with the good and bad of life. Such Monastery Memories may help link all who walk around or use the former Passionist property with the pulse of present day Union City, New Jersey. After dinner on January 17 at the New Anderson Diner on Anderson Avenue, Cliffside Park, New Jersey, John agreed to allow The Passionist Heritage Newsletter to publish his thoughts. [Editor: Fr. Rob Carbonneau, C.P.]
Monastery Memories: Personal Stories
Though my mother and father were married in St. Joseph's Church, on Central Ave, Union City in 1935, and I attended St. Anthony's school, St. Michael's, nonetheless, was a very important part of my childhood years in Union City in the early and mid 1960s. My mother recalls, being a young girl, taking the trolley with her mother (or even walking when they didn't have the trolley fare), from Jersey City Heights up to the Novenas at St. Michael's. My mother distinctly recalls an old hymn "Mother of Christ," that she heard at St. Michael's at that time. Many years later, at another church (now a married woman with three sons) she heard that same hymn being played. She started to cry, and told the organist that the last time she heard that hymn was at St. Michael's when she was with her mother. The organist was touched, and amazed Mom knew the hymn: "Why, many priests don't even recall this hymn!"
I vivdly recall going to the mass, in Latin, with my mother 40-odd years ago. To hear the priest's chants echo throughout the cavernous interior of St. Michael's, was, to a child, like hearing God himself speak. My second grade teacher, whose husband was a parishioner at St. Michael's, was married there. The entire class was invited to attend, along with our parents.
Vatican II (1962-1965), and the changing of Union City itself in the late 1960s and 1970s, truly seemed to take its toll on the great and noble St. Michael's. It was heartbreaking, to say the least, to see the huge bronze doors closed to Catholics forever, to see the Monastery where the priests resided fall into ruin, and the removal of the deceased priests as the graveyard was being taken over by developers. The outdoor Stations of The Cross became only a cherished memory. I thank God for the beautiful memories I have of St. Michael's. No urban developers, nor anyone else, will ever be able to banish them from my mind or my heart.
St. Michael's is also home to a humorous memory. While it was before my time, it was witnessed at a Sunday Mass by my mother and my two brothers, who were then in grade school. It was during the 1940s. A man, who was a neighbor of my family, was an usher. Somehow, his dog, "Tonto," slipped into the church and made his way up to the main altar. For some reason, the bells which the altar boy would ring fascinated Tonto, and he began pawing at them and nudging them with his nose. The people up front, of course, could see what was going on, and tried hard to stifle their laughter. Those all the way at the rear, however, could not see what was going on, and stood and knelt again every time the dog nudged the bells! My brother recalls the priest trying to be a good sport, and the poor usher, who owned the dog, had to round him up and take him back home. Perhaps the dog had a calling as well!! That story has been told many times over the years in my family.
Monastery Memories: Like Going to St. Peter's in Rome
As Catholic boy growing up in Union City in the early and mid 1960s, I have many vivid recollections of that magnificent edifice. My mother, a devout Catholic, always said "To visit St. Michael's was like going to St. Peter's in Rome." In those long ago days, respectful behavior was certainly required for visiting any house of worship, but to enter St. Michael's 40 years ago, was truly an experience one would never forget. I can remember, even as a child, the deep feeling of awe and reverence one felt upon entering that magnificent church. It just seemed to overwhelm one with its magnificence! How well I recall the majestic main altar with its soaring canopy; the highly-polished wooden confessionals and pews; the statues in their candle-lit niches; the towering columns; and, perhaps most impressive, the magnificent, lofty dome! What a feeling of majesty was felt in that holy building! As a small boy, I clearly remember thinking how great a king Our Lord was to have such a beautiful home! I remember so many ancient traditions lost forever: the haunting reverence of the Latin masses, the kneeling at communion, the ladies covering their heads before entering the church, the ringing of the bells at the altar, people dressed in their best at all the masses.
Today, as a man in his late 40s, I look at the majestic former St. Michael's and inwardly cry. I think of the countless who worshiped there in peacetime and wartime and of such events as the weddings, first communions; my mother, who is now 85, was confirmed at St. Michael's in 1931. My older brother, Joseph Biasco Jr. married Frances Galdini in St Michael's in July of 1966 And I vividly recall the Fathers themselves. I was in awe of these men in black who seemed to know God on an intimate basis!
Today's Catholics have lost a great and rare treasure with St. Michael's no longer an active Catholic church. They will never know the feeling of nearly spellbinding awe one felt upon entering that soaring, historic edifice! For my memories, I feel I am the richer! How well my mother recalls the crowds that came by the bus loads for the Novenas spilling out onto the front steps. She recalls people climbing up the stone steps on their knees the day World War II ended in 1945. Yes, St. Michael's was a very important part of my Union City childhood some 40 years ago.
Monastery Memories: The 1934 Monastery Fire
My parents were about a year away from marriage when the great dome of St. Michael's burst into flames. My dad was on a nearby side street, helping a buddy to overhaul his Model A Ford when the first flames tore through the great dome. My mother, (then 17), was working at the nearby Schwarzenbach Knitting Mill. Everyone working there smelled the smoke, and soon they heard the clanging and shrieking of fire engines. One of Mom's supervisors came in and announced, "My God! St. Michael's is on fire!!" Mom recalled all traffic was halted and/or re-routed. As the Public Service trolley cars and buses were either re-routed or halted altogether, Mom, like many of her co-workers, walked home after work. My mother said that you couldn't walk anywhere in Union City without smelling that fire. According to my mother, the great, thunderous roar when the dome partially collapsed was a terrifying sound to have to hear. My dad recalls fire trucks coming over from Manhattan via the Holland Tunnel and on the ferryboats to assist the local fire companies. Mom remembers clearly people watching the fire from nearby streets, weeping openly. It was a long time, Mom told me, before the church itself was rebuilt and restored to its former state.
As a young boy growing up in Union City in the 1960s, I clearly recall three old photos in a frame in the lobby of the old Union City Library on 15th St. One photo was taken a few blocks away, showing the huge sheets of flame and billowing smoke pouring out of the dome; the second photo was of Monastery Pl., showing the smoking ruins down the block, barricades and parked vintage autos, and the third photo, showed the horrible ruins of the area around the main altar. Later on, as an adult, it reminded me of pictures of London during the Blitz. The last time I can recall seeing these photos in the Library was in 1971 when my family moved away from Union City.
Monastery Memories: The Sacred St. Michael's Monastery Dome
The great and noble St. Michael's, even when viewed from a great distance, was a most imposing, awesome sight. As I was always a transit buff, even as a youngster, I vividly recall seeing the imposing silhouette of St. Michael's from the windows of the old Erie-Lackawanna trains from way out in the Jersey meadows as the train rumbled eastward. When mom and I would frequently ride the now long-gone Public Service #17 bus on Summit Ave., both she and I would bless ourselves as the bus passed the rear of the Monastery. On stormy days, especially when great masses of towering thunderclouds would pile in the summer sky, the great dome and hulking stone church took on an eerie, almost spooky appearance, especially if lightning were present. I well remember shielding my eyes from such a spectacle if Mom and I were riding home on the bus as a storm gathered those many decades ago! (I was, and still am, not comfortable during thunderstorms!)
But, on a clear, bright-blue spring, summer, fall, or winter day, you could simply just stand outside that great church and marvel at the gifted architects, craftsmen, and workmen, who created one of the world's most beautiful churches so long ago!
Monastery Memories: An Ode to St. Michael's
Like a Great Stone Monarch surrounded by its workaday subjects, The Mansion Of The Lord, old St. Michael's, still stands proudly. It is an endearing, seemingly indestructible monument to a long ago and more pious time in our history. Now more of a silent hulk than a bustling hubbub of sacred traditions long since disappeared down the echoing corridors of time, the great St. Michael's still stands proud and strong, as though proving its loyalty to its heavenly Lord and Master!
Though its once grand and breathtaking interior is altered and changed, from the street it still appears to be the long-familiar stalwart friend of stone, so beloved of the thousands of faithful of many years past. How humble one feels, standing near this hulking stone edifice, the tallest man feeling as small as a child beside its towering majesty! The great dome still points heavenward, as though to remind the restless human beings that now walk by it, ignorant of its history and beauty, that the Heavenly Father is still looking down, watching us all!
If one has the heart and the soul, one can still stand close to this Great Sacred Church, and listen, with the mind's ear and imagination, and hear the old church speak of its sacred and glorious past. Hear once more the mystical Latin chanting of a Passionist priest as he celebrates once more the sacred mystery of the Mass. Hear again the majestic, powerful chords of the great organ. Hear the ancient Latin words echo throughout the vaulted caverns once again. So, dear friends, out of the kindness of your heart and soul, visit again this awesome, ancient landmark. It is a soaring, breathtaking monument of man's love and devotion to our Lord and Creator!! Listen. Listen not with your ears, but with your heart and your mind. Listen, and surely you will hear the voice of St. Michael's speak to you. And it most certainly will, if you only have but the heart, and soul, to hear!!
I dedicate this work to all the Passionist Fathers and Brothers, both living and deceased. May even those in the highest places learn of their greatness and devotion!!
About the author: John R. Biasco is a native of Union City, New Jersey. He lived there until 1971 when his family moved. Since 1974 he has lived in Cliffside Park with his mother Marguerite Kosen Biasco. His father, Joseph Biasco Sr. died in 1980.