by Father Columkille Regan, C.P.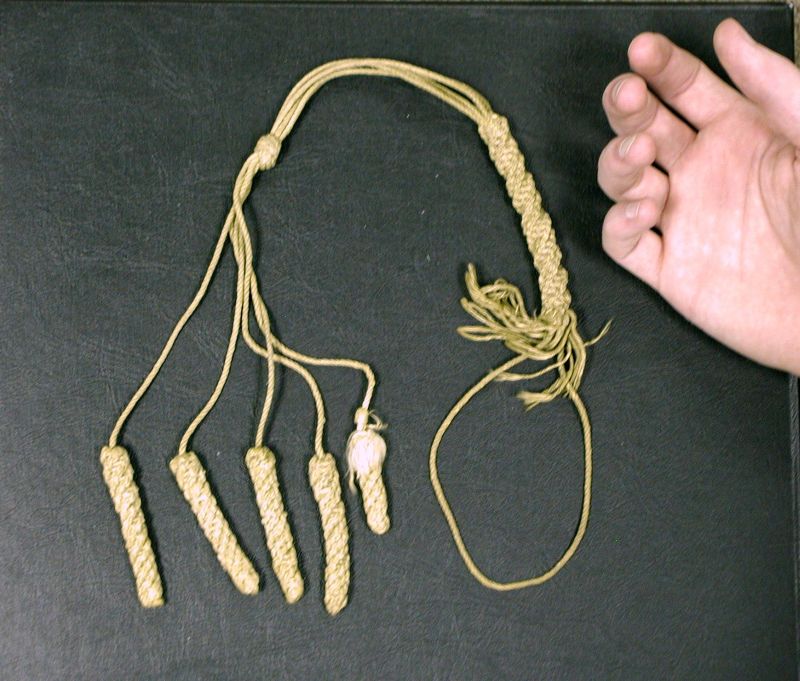 The "Discipline" is an ancient ascetical instrument. It is used to inflict a modicum of pain on "brother ass." As used by the Passionists it is/was a whip with five braided thongs. These disciplines were handmade by the novices, in their "crafts" periods, along with rosaries, birettas, sandals, and [Passionist] "signs". A medium weight cord was used. Recently, such instruments of asceticism have received a modicum of publicity with the publication of The Da Vinci Code and disclosures about some of the inner workings of Opus Dei.
Such instruments of mortification have been in vogue since the early days of Christianity. Hermits, desert fathers and mothers, penitential all have resorted to them: hair shirts, whips, arm & leg spiked chains, cold showers, rolling in brambles, etc. They were all used over the centuries to control wayward concupiscence.
Our founder, St. Paul of the Cross used several of these instruments himself. He even used the discipline in the pulpit, whipping himself over the shoulders and upper back. Privately he would take the discipline "to blood"; which in later years he forbade to his religious.
In my time, after we were introduced to this hidden mystery, we took the disciplines standing out on the choir floor after Matins. We did this two or three times a week. After the chanting of matins and lauds was concluded, the non-initiated were asked to return to their rooms (Postulants, visitors, retreatants). The rest of us left our places in the choir lecterns, went onto the floor area, spaced adequately. Then all the lights were extinguished, the hebdomadary [the leader of prayer] began chanting the "Miserere"…our underpants were dropped, habits thrown over the shoulder and rhythmic smacking began. On several occasions, once in Pittsburgh and the other in Jamaica, a retreatant coming late for Matins opened the door into the choir sending a shaft of light on these exposed moons. I can only imagine his horror at this cultic flagellation.
What did we think of this? Well, like so many practices that we were introduced to—eating on the floor, prostrating outside the refectory door, making culpa etc.—we didn't question, just figured this is the road we had to walk. It never crossed our minds, until some years later, that there was anything masochistic, sadistic, or sexual to it. For us it was just a pain in the butt, literally.
Today—with the exception of Opus Dei—a holistic asceticism and spirituality has taken over, without any Manichean remnant. We don't look upon the body as separate cause of sin. Modern means of restraint, and penance, regard the body as the temple of the Holy Spirit, worthy of respect and disciplined reverence.
Columkille Regan, C.P.
June 2, 2006