The Passionist Presence in Massachusetts: An Historical Reflection
By Fr. Rob Carbonneau, C.P.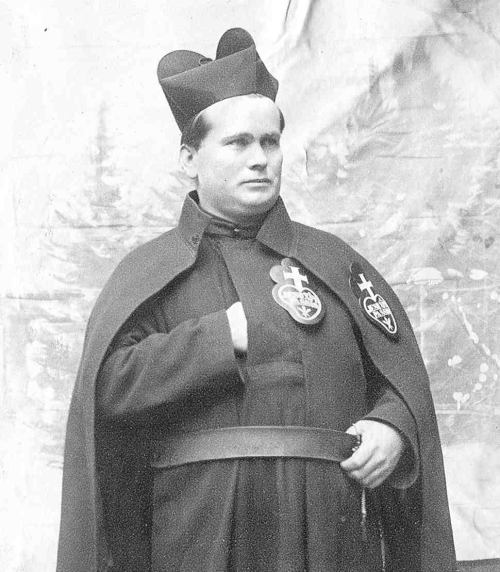 Introduction:
Since the early 1900s, the Passionist name was synonymous with Catholicism in Massachusetts. The year of 2010 signals the beginning of an era whereby no Passionist monasteries, parishes or retreat centers exist in Massachusetts. Though the last Passionist ministry site ceased operations in 2009, Passionists still reside and minister in Massachusetts in 2010. They are Brothers Terrence Scanlon and Terence Skorka in the Springfield diocese, Fathers James Earley (retired) and Bonaventure Moccia in the Worcester diocese and Father John O'Brien serving in the Archdiocese of Boston and Worcester. The Passionists also hope in the future to preach retreats and parish missions or to participate in other Massachusetts-based ministries whenever possible.
The first Passionist foundation was in Brighton, immediately outside Boston proper. St. Gabriel's Monastery operated from 1907 to 1978, as well as the Laymen's Retreat Movement, which ran from 1911 to 1978. St. Gabriel's Parish served the Brighton area from 1934 to 2006. In 1922 the Passionists were invited to the Springfield diocese. The second site, Our Lady of Sorrows Monastery, was dedicated in 1925. A Laymen's Retreat League was soon started. In 1993 the West Springfield foundation closed. Finally, in 1960 an agreement was reached that would see the Passionists come to the Worcester diocese to begin Calvary Monastery and Retreat in Shrewsbury. Those attending the 1965 celebration, it is probably safe to say, would not have anticipated that the Passionists would have closed and successfully sold the Shrewsbury site by 2009.
This issue of the Passionist Heritage Newsletter reflects on this historic change in Massachusetts from a Passionist-centered point of view. Part One provides a general historical overview on events and insights that link the three Passionist ministry sites together over the past decades. In doing so, I would hope that Passionists, in particular, acknowledge the real and psychological impact of the end of the institutional Passionist era in Massachusetts. Implicit in this is a call to interested people, local history associations and scholars to initiate study on the Passionist impact in Massachusetts. Part Two includes three essays. At my personal request, these authors agreed to share their personal accounts of what it was like to coordinate the public closing of their respective ministry sites. I, of course, am well aware that other Passionists and laity affiliated with West Springfield, Brighton and Shrewsbury were important contributors and might still, in fact, have diverse memories about their closing. In the end, I hope that the three contributions serve as a public mirror and, perhaps, model of how Passionists and the general public look together at past change and options for the future.
Brighton and West Springfield: Hopeful Beginnings:
Passionist Father Justin Carey (1868-1947) serves as a link to reflect on the beginnings of the first two Passionist foundations in Massachusetts. Carey was ordained in 1892. In 1903 he was elected rector, or local leader, of St. Michael's Monastery, West Hoboken (now Union City), New Jersey. Thereafter, his skills led him to be directly involved in the building of Passionist monasteries in the following decades. In 1907 Carey accompanied then Provincial Father Fidelis Kent Stone to Boston to meet with a third Passionist so as to select a site for the new Passionist monastery. All indications pointed to building at Jamaica Plain in Boston. However, real estate agent John Kiley suggested the three men check one more location. Because the other two Passionists were tired, Carey went himself to inspect the Nevins Estate at the end of Corey Hill in Brighton. Carey thought it ideal and convinced the others. By April 1908, St. Gabriel's was established. During the next several years, Carey was asked to take charge of the building of the Brighton monastery where he was the local superior. It is said that then Bishop William O'Connell of Boston visited Carey and the topic of a laymen's retreat was broached.
Father Carey was elected provincial in 1917 and re-elected in 1920. During his six years, Passionist expansion was a keynote. For example, priests went for professional studies and the Archconfraternity of the Passion was started, as was The Sign Magazine and the missions to Hunan, China and Germany. In 1922, Carey agreed to buy the property in West Springfield, Massachusetts for a new monastery and retreat house. In 1924 Carey secured property for the monastery and retreat house at Jamaica, New York. Once out of office, Carey was appointed to be the superior of West Springfield so as to supervise its construction.
Massachusetts Monasteries in Debt; Passionist Response to the 1929 Stock Market Crash:
Justin Carey served again as provincial for a third term from 1929 to 1932. Due to the sudden October 29, 1929 Stock Market Crash, the Passionists, like so many in the country, found themselves in debt. Given the current fiscal turmoil the country finds itself in, Passionists and the public might be interested to see how he handled the crisis.
On March 4, 1930, Carey sent the local leaders of the Passionist monasteries, known as Rectors, a one page letter. First, he offered a picture of the bleak financial malaise of the Passionists. Since the Province debt on which the Provincial was paying interest was $553,000, he thought it best to have this debt distributed 'pro rata' among the various houses of the province. Specifically, St. Gabriel's Monastery in Brighton and St. Ann's Monastery in Scranton, Pennsylvania each had a debt of over $200,000. Likewise, West Springfield was in debt and had the added expenses of training new Passionist novices. To solve the problem, he looked for help from the existing Passionist monasteries in Union City; Baltimore, Maryland and Pittsburgh, Pennsylvania.
Second, after Carey consulted with the Passionist rectors, he announced his plan to repay the province debt: St. Michael's Monastery, Union City was to pay $250,000; St. Paul's Monastery, Pittsburgh, $100,000; St. Joseph's Monastery, Baltimore, $75,000; and the new monastery at Jamaica, New York, $108,000.
Third, payments were to commence January 1, 1930. Interest on this debt was 4 1/2 % every four months and the Passionist econome, or treasurer, was authorized to send each monastery a bill every four months for interest. Money sent to the Provincial would then be sent to the bank. Aware of the dire straits, Carey concluded: "We shall be pleased if every four months or at the end of any given month you can pay something on the principal. Even $1,000 will mean cutting down your interest."
In retrospect, Carey's strategy to deal with the unforeseen economic crisis was to establish a strong Passionist presence by supporting the monasteries not yet ten years old! Moreover, his plan to apportion the debt among existing Passionist monasteries highlights the then mutual 1920s reliance of Catholics with the institutional church. Brighton and West Springfield were thus able to survive the Depression.

Massachusetts Images of Passionist Prayer, Penance and Solitude:
Up until the mid-1960s, passersby of the Brighton Monastery on Washington Street or the West Springfield Monastery on Monastery Avenue correctly understood Passionist priests and brothers as living an austere and common religious life. Not uncommon in 2010 is a call among Catholic laity and even Passionists to hearken back to this simple, common life. In hearing this, it is always a value to identify what was the actual imposed common life daily schedule for Passionists living in monasteries in Massachusetts, the rest of the United States and throughout the world: Wake up at 2:00 AM for prayer of Matins and Lauds; back to sleep and awake again at 6:00 AM for prayer of Prime and Tierce; 11 AM was spiritual reading; 11:15 AM was time for a solitary walk followed by 11:45 AM prayer of Sext and None. Dinner was at noon. Common recreation was at 12:30 with rest at 1:15 PM. Passionists participated in Vespers and Spiritual Reading at 2:15, study at 2:45, and an outside solitary walk at 5:00 PM. Common prayer was 5:30 PM, supper at 6:30 PM, recreation at 7:00 PM, common Compline and Night Prayers at 7:45 PM, additional study at 8:20 and finally 9:00 PM retire to bed.
Rarely discussed, or, for that matter, understood, by Passionists and the general public is the operative lived culture in these monasteries. Reflecting specifically on the Brighton and West Springfield sites begs further reflection on what was enjoyable about this Passionist life? For instance, both Passionists and the public were often inspired by the visible witness of both old and young members in their Passionist religious garb trying their best to live together. At the same time, more reflection is needed to discern the lived struggles. Passionist life in these pre-1960 Massachusetts sites for priests, brothers or seminarians required countless permissions which often altered the monastic schedule. Of immediate interest, for instance, is the fact that a close examination of the afore mentioned schedule has no mention of a common celebration of the Eucharist for Passionists. That was more on Feast Days. Usually, Mass was said in Latin, we must remember, at individual side altars.
In contrast, the Passionist site in Shrewsbury blended this reality. Those who visited the site might recall that as one faced the large altar and cross, to the left side were semi-enclosures for individual masses. The liturgical changes of Vatican II meant that soon after these side altars were built their use had changed. Moreover, by the mid 1960s, Passionists living in Shrewsbury, Brighton and West Springfield adapted to a vision whereby rules and regulations were less the norm and communal discernment and prayer as vowed members upholding the values of Passionist founder St. Paul of the Cross was more the norm. Now in 2010, past history might provide lessons to help both the Passionists and the public discover the long-standing value of how prayer, penance, solitude and symbols such as the Passionist habit or devotional prayers anchor faith and belief into the future. Contemporary passersby of the three Passionist foundations in Massachusetts might very well find themselves pondering these issues into the future.
The Saving Power of Passionist Retreats in Massachusetts:
Shrewsbury was designed and built with a specific purpose that reflected Passionist retreat spirituality that was emerging in the post-Vatican II era of the 1960s. While emphasis was to still highlight Passionist preaching and sensitivity as priest confessors, added stress was more than ever on the personal needs of the individual retreatant in terms of space and food and personal time, the need for group discussions, and communal liturgical services. Simultaneously, this Shrewsbury retreat model, which was aided so much by the architecture itself, was necessarily implemented in both Brighton and West Springfield, as well as other Passionist sponsored United States retreat houses. Most telling of this national Passionist retreat experience was the priority given to team ministry, whereby various vowed Passionists (priests and brothers) brought to life the experience for those on retreat. Putting the post-Vatican value of lay leadership and spirituality into practice, the West Springfield Retreat was led by a laymen, Mr. Jim Greer, in the 1980s. Then, Shrewsbury was directed by Mr. Ernie Rivard in its final years before closing in 2009 (evidenced by the fact that he contributes the essay on Shrewsbury in this issue of the Passionist Heritage Newsletter). In time, historians will have studied the impact of their leadership in the history of the Passionists, the respective dioceses and the American Catholic Church.
Historians and the public might do well to recall that the personal dynamics of a post-Vatican II Passionist retreat in Massachusetts were not always the norm. Remember the schedule of a pre-Vatican II Passionist retreat? First, prior to the 1960s, women did not regularly make retreats. This only became commonplace in the 1970s. Second, making a retreat at Brighton or West Springfield was based on the model whereby a man, who was at least of working class status or above since they had the time and money to pay for a retreat, would spend his weekend living as if he were a Passionist in the monastery and, in sum, encouraged to live the values of a Catholic laymen in a secular society. Third, the weekend schedule was as follows: awake at 6:30, attend mass at 7:00, eat breakfast at 7:45, listen to a Chapel Conference at 9:00. Reading and Reflection followed at 9:30, another Chapel Conference at 10:30, and Reading and Reflection again at 11:00. An 11:30 walk preceded noon Dinner and Recreation. The afternoon and evening was 1:15 Reading and Reflection, 2:45 Rosary in the Chapel, a 3:00 Chapel Conference and then 3:30 Confessions and Stations of the Cross. After a 5:00 Chapel Conference, there was time for a 5:30 walk before 6:00 Supper and Recreation. An additional Chapel Conference occurred at 7:30 followed by 9:00 discussion. At 10:00 the men gathered for a Blessing before bed. In retrospect, the saving power of the Passionist retreat in Massachusetts had the stability of helping retreatants seek a relationship with God even as the method and means changed from the 1920s till 2009.
We Preach Christ Crucified: Multiple Passionist Ministries in Massachusetts:
The essay of Passionist Father Roger Elliott on the closing of St. Gabriel's Parish in Brighton is a clear reminder of the diversity of Passionist ministries in Massachusetts. As the economic realities led to changes in the Brighton neighborhood from the 1950s through 2000, the Passionist parish staff and efforts of the Sisters of St. Joseph in the elementary school did their best to respond. Understanding the historical pulse of St. Gabriel's with the Fidelis Way Housing Complex merits attention.
At the same time, Passionist preachers in Brighton and West Springfield left their respective monasteries to regularly assist in local Massachusetts parishes or preach parish missions throughout the Commonwealth and the United States. While Passionists and laity alike reminisce about this legacy, there exists little critical analysis of the impact of Passionist preaching. What have been the varied public faces of the Passionist parish mission in the 20th century? What is the theological legacy of Passionist preaching? For example, did Passionist preachers advocate Catholic social teachings? How did they meld Thomistic thought with advances in Holy Scripture, Eucharistic Devotion, and diverse Catholic devotions or preaching to ethnic groups in various languages? Were all Passionists known to preach sermons of "hellfire and brimstone" or just some?
In West Springfield, Passionist Father Fidelis Rice was a pioneer in radio and television. From 1954 to 1986, the Crossroads Radio program, offered a United States and limited international audience thoughtful Catholic commentary by Passionists and guest speakers. In 1957 Rice initiated "Chalice of Salvation" as a Sunday televised Mass in conjunction with Channel 22 and the Diocese of Springfield. In 2010 Passionist Brother Terrence Scanlon coordinates this historic Passionist ministry in its present format.
In addition, all three Massachusetts sites have proclaimed the Passionist commitment to the Overseas Missions. As early as the 1920s, Brighton held "departure ceremonies" for missionaries assigned to China and all foundations had Passionists who ministered in the Philippines or Jamaica, West Indies. During the 1990s Shrewsbury promoted mission awareness and fundraising to support the efforts of Passionist Father and medical doctor Richard Frechette in Haiti.
The Passionist Voice in Massachusetts:
The voice of the Passionists in 2010 is different than it was in the 1900s. Concentration on Passionists in Massachusetts in this issue of the Passionist Heritage Newsletter reminds both laity and Passionists of this heartfelt legacy.